Show your original SMISKI!!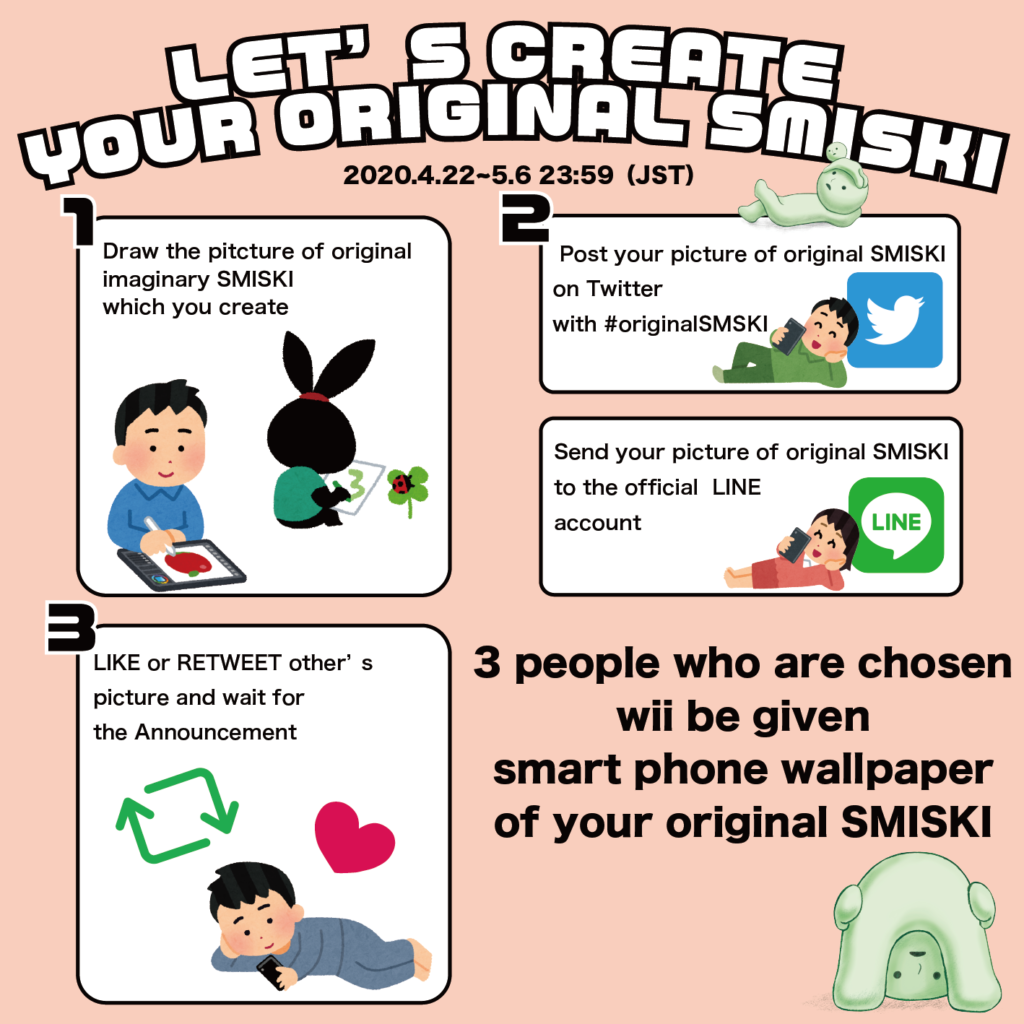 As we all know, there are so many kinds of SMISKI, such as Smiski Lounging, Smiski Hugging Knees, and so on.
Now here we announce to collect everyone's idea of original SMISKI!
For 3 best ideas, SMISKI designer will draw an original one and only wallpaper!
Campaign period: 12:00 April 22, 2020 ~ 23:00 May 6, 2020
How to apply
① Draw your original SMISKI (Digital, analog… any style is OK!)
② Send files of your drawinds or photo
<Twitter>
Post your file together with "#originalsmiski" hashtag!
*Locked accounts are not accepted
<LINE>
Be a friend with our SMISKI LINE official account and send your file through talk page!
③ Be patient and wait for the announcement! Also have fun enjoying other fans posts!
Participant of this campaign organized by Dreams Inc., producer of SMISKI, shall be deemed to have consented to the following user policy. This campaign is open to every Twitter or LINE users under agreement with the terms and conditions below.
ATTENTION
Participants should be individuals. If individuals participate with numerous accounts, all of the accounts will not be eligible to enter.
Participants can submit as many works as they would like.
Participants shall be deemed to have consented to the responsibility of any data communication charge.
Works including someone something or character that rights to third party are not allowed.
Entry is limited to original works that have not formerly been displayed or exhibited, and to which the entrant holds all applicable rights to. Works that have won prizes in other contests or that have been submitted to other contests currently underway are not eligible. Works that are entered in other competitions after submitting to this contest will not be eligible. On the other hand, entry submitted on their personal website, our website or SNS for non-profit purpose will be eligible.
Dreams Inc. will not bear full responsibility for that if there is any object threatened infringement of third party's rights (e.g. Portrait rights) in the submitted pictures. Participants must take all responsibility for taking part in this campaign and the all responsibility for works they submit to our campaign. If we are notified by the third party or we received any complaint because of participants' works, participants may be charged for any expense involved for resolving the complaints and so on.
If we find any infringement of rights in the submitted works, the works will not be eligible for the campaign.
Posted information & materials will be checked by Dreams Inc. Twitter account name (or name typed in the post form) and posted photo will be uploaded on this campaign page.
Number of posts are unlimited. Please post many images as you want.
Although right of the work belongs to Dreams Inc. participants shall be deemed to have consented to agreement of our usage of submitted pictures for our advisement or PR activity.
Submitted works may be edited or modified by us when we publish, exhibit or use photos for other events and PR activities.
Right to be selected as a winner will be forfeited if participants delete submitted works, quit following our Twitter account "@smiski_japan", set privacy setting on during the contest and before the announcing of winners.
If you have any questions or concerns about this contest, please contact us from the contact form on this website. However, please note that we will not accept any technical questions about Twitter or LINE.
We will not accept any questions about the judgement and/or confirmation of entry submissions.
There is no relation between this contest, Twitter and LINE. Twitter and LINE will not offer support services or be involved with this contest.
Prohibited matter
Followings are not accepted.
Acts that hinder the operation of this campaign.
Information provision, advertisement promotion or solicitation for profit.
Act of violation of the public order and morals.
Posts corresponding to obscene expression or violence.
Post containing slander, personal information of a third party who has not obtained permission.
Post infringing or that may infringe third party's privacy. Posts infringing rights of third party copyright, intellectual property rights, portrait rights.
Posts of photos that are not applicable to this campaign.
Act of judgment that Dreams Co., Ltd. is malicious or inappropriate.
Others, acts similar to the preceding items.
Alternation, Discontinuance, Cancellation or Closing of this Contest
Dreams Inc. is eligible to alter, discontinue or cancel all/a part of this campaign at anytime with our circumstances. Also, we will not bear full responsibility for participants' damage or disadvantages happened due to the alternation, discontinuance, cancellation or closing of this campaign.
Winners & Prizes
We will announce to winners via Twitter Direct messaging or LINE messaging.
We will not bear full responsibility for any accidents or injury caused when using the prize/s received.
We may revise these guidelines according to the law revision or change of our business content. When we revise the guidelines, we will announce to all participants on our website.
April 22, 2020